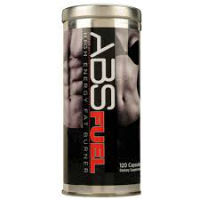 ABS Fuel High Energy Fat Burner is one of several supplements produced in the ABS Fuel brand. In this particular case, it is an over the counter product that is meant to provide your body with both a burst of energy and an increase in its ability to burn body fat.
The idea behind this product isn't to magically cause fat to disappear but to support other efforts that are being made to create a toned body. This is a product that is designed for people who are trying to lose weight. However, it is also a product meant for people who are trying to improve the look of their body tone. In that case, it's a matter of trimming down the extra fat layer over muscles but not necessarily reducing weight as a whole.
The description of this product on the official ABS Fuel website suggests that it would be safe to use for quite some time. It also indicates that it may be a product people can use to continue results once they've been achieved.
ABS Fuel High Energy Fat Burner also contains appetite suppressants. This is for the purpose of helping to keep hunger under control. That way, you will be better equipped to make smart food choices more conducive to weight loss.
At the time of the writing of this review, the ingredients in ABS Fuel High Energy Fat Burner included: cordyceps sinensis extract, taurine, caffeine anhydrous, irvingia gabonensis, guggulsterones E&Z, citrus aurantium, theobromine, white willow bark, cinnamon bark extract, hoodia, "piperline" (which may be piperine with a typo in it), alpha lipoic acid, vanadyl sulfate and chromium picolinate.
Despite the fact that there is a long list of ingredients in this formula, the official website describes only the irvingia gabonensis. It makes no mention of any of the rest of these substances. Moreover, when looking at the rest of that list, it is not too difficult to see why there is little additional focus made.
None of the ingredients in this formula are very different from any of dozens of other products in this industry. It is clear that the primary purpose of this product is to work as a stimulant. One main problem spotted in the list is the combination of caffeine anhydrous and citrus aurantium. The FDA has cautioned dieters against taking this combination due to the potential for dangerous side effects. Those side effects can include an increased risk of heart attack and stroke.