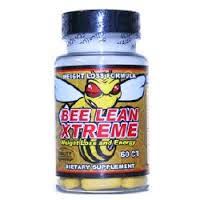 BeeLean Xtreme is a nonprescription weight loss supplement that is designed to help dieters to be able to gain better control over their weight. Naturally, that's a claim made by virtually every diet pill on the market, so this one will need to do something quite unique in order to stand out from the rest.
In order to achieve that goal, the official website for BeeLean Xtreme focuses on a "new tri-layer delivery technology" that makes up this pill. In essence, there are three different layers to each pill, each of which dissolves at a different rate in order to help to ensure a gradual release of the ingredients so that it continues to work over a period of up to eight hours instead of sending them into the body all at once.
The claim is that those gradually released ingredients will inhibit the release of the enzymes in the body that are required for the storage of fat on the body while at the same time encouraging the fat already stored on the body to be used as energy.
In order to accomplish this goal, the pill is made of the following ingredients: Acacia Rigidula Extract 150mg, Ephedra Extract 25mg, Theobroma Cocao (60% extract) 40mg, 50% Kola Nut (100% extract), "Citrus Auranthium" (30% extract) 85mg, Bee Pollen, Chromium Picolinate, Royal Jelly, Hoodia Gordonii Cactus. White Willow Bark, Green Tea, Cassia Nomame extract, Ginger Root, Garcinia Cambogia Extract Fruit, Guggulsterones, Bladderwrack kelp, Gotu Kola, Siberian ginseng, L-Carnitine, Licorice Root, Dandelion Root, Nettle Leaf, Vitamin E, Vitamin C, Magnesium, Zinc and White Kidney Bean Extract.
This is an extremely long list of substances and while that would typically raise a red flag for anyone who has experience in the nonprescription weight loss industry, the problems run deeper than that. Even if every single other ingredient was proven to be fantastically helpful with weight loss and didn't have any side effects associated with it – which is not the case – this product contains 25 mg of ephedra extract.
Ephedra extract is a banned diet pill ingredient in the United States. After having been associated with a number of deaths as well as a range of severe side effects, the FDA has made it illegal to produce, sell or purchase this ingredient in weight loss pills. The fact that it is included in this product, particularly in combination with other powerful stimulants such as citrus aurantium (which was misspelled on the website as citrus auranthium), which is an ingredient that contains synephrine. The FDA has warned dieters against using that stimulant in combination with caffeine, which is also present in the kola nut in these ingredients.
Due to the fact that this product is illegal and contains several ingredients and combinations that have been deemed unsafe, there is no way to recommend this diet pill.