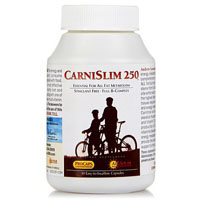 CaniSlim 250 is a weight loss supplement made by ProCaps Laboratories. That company was initially created in 1979. It was founded by Andrew Lessman for the purpose of offering the public an alternative to dietary supplements in an industry that had lost their trust, according to Lessman.
The official webpage for this product on the ProCaps Laboratories website describes these supplements as being 100 percent pure and free of addictive ingredients. It also claims these pills are not compressed (which can make it harder for the body to absorb the ingredients), and that they are gentle on the stomach.
That said, it also claims that the main reason CarniSlim 250 is unique from other pills in the market is because of its precise ingredients balance and the dosages recommended by the product directions.
This product is meant to function as a fat burner. More specifically, it claims to be lipotropic. It is based on a formula containing a large amount of carnitine. In fact, it contains 1,500 milligrams of that substance. They are supposed to function by stopping the liver from being able to accumulate an excessive amount of fat. They also use thermogenesis, which raises the body temperature by converting body fat into heat.
While there have been some promising carnitine studies, this ingredient is far from considered to be proven by the medical community. Still, it is worthy of further study, which is certain to be conducted in coming years. Aside from carnitine, CarniSlim 250 also contains other substances such as chromium. That ingredient is believed to help raise insulin activity, which could help to transform stored fat into usable energy. That said, there has yet to be any proof that the effect created by this ingredient is powerful enough to generate any measurable weight loss.
The formula also contains a complex of four B vitamins. These vitamins are known to assist with cellular metabolism. That said, again, they are not proven to actually produce measurable weight loss that would be seen on the scale as a result of their use.
Finally the last ingredients in CarniSlim 250 include vitamin C, niacin, pantothenic acid and vanadium. This makes it clear that there is nothing unique within this formulation other than the balance in which these substances are combined. Each of these ingredients is highly commonplace within the over the counter weight loss supplement industry.
As of yet, there is no solid proof that this product will generate weight loss or support weight loss already underway due to dieting and exercise. That said, it is likely safe to take in the dosage recommended on the package.