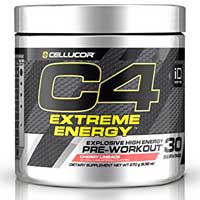 Cellucor C4 Extreme Energy, also known as Cellucor C4 50x, is an over the counter weight loss pill produced by a company called Cellucor. This particular business sells a number of different supplements, many of which fall into the fitness and weight loss category. The C4 brand also contains a number of different supplements, but in this case, it is meant to support individuals who are attempting to use exercise in order to reach their goals.
The official company website has a page dedicated to the Cellucor C4 Extreme Energy product. It offers a limited but usable amount of information to allow a potential customer to inform him or herself regarding what the product is all about. The main claim regarding the use of this product is that it will help to offer a considerable boost of energy when taken ahead of a workout. It is also described as a product that will help to enhance motivation while exercising. As such, it is supposed to be a performance enhancer to allow its users to reach their fitness goals faster, whether they be to build lean muscle, burn fat or even boost speed or endurance within a given sport.
As this is one of the company's older products, it has undergone some changes in formula and even in name over the years. At the time of the writing of this review, the ingredients listed in this product include: 300 mg Caffeine, TeaCrine®, Creatine Nitrate (NO3-T®), CarnoSyn® Beta-Alanine.
This product is very clearly based on stimulants and the company makes no attempts to hide that. In fact, the official website describes it as a product that provides workout intensity by way of an "extreme jolt" of energy. It specifies that this product is not meant for people who are casual gym-goers but that it is designed for people who intend to complete intense workouts where they will put everything they have into every move.
As a result of the very high caffeine content – it is about the same as taking three cups of coffee all at once – it is more than likely that a large number of users of this product will experience unwanted side effects. These include jitters, headache, moodiness, anxiety, nausea, diarrhea, heart palpitations, rapid heartbeat and increased blood pressure, among others.
This product is not safe for all users. Before starting to take Cellucor C4 Extreme Energy it is very important to speak with a licensed doctor.