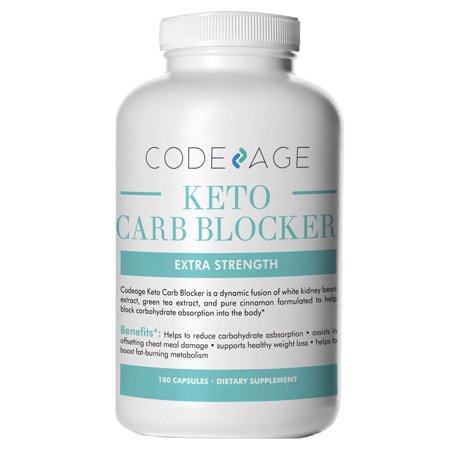 Code Age Keto Carb Blocker diet pills are a type of supplement sold over the counter and targeting those following a ketogenic diet. As one of the most popular diets in the last few years, the number of products available for dieters using this type of strategy is rapidly growing.
According to the official Code Age website's description of this product, it was developed to decrease food cravings, suppress the appetite, increase the mood, burn fat and promote healthy weight loss. It is meant specifically for people on a low-carb or keto diet.
Code Age Keto Carb Blocker diet pills do not contain any binders, preservatives, fillers, GMOs or any other "hidden ingredients." It claims to provide dieters with the chance to make their window for "cheating" bigger, which isn't a good sign when it comes to establishing habits that will maintain healthy weight over the long term. It states that you will be able to fudge the rules a little bit more while still keeping your body in "low-carb mode for the majority of the day."
The product claims to function through the use of starch blockers. They are amylase inhibitors. Amylase is an enzyme required to digest starches. Without it, starch passes through the body undigested.
At the time this review was written, the ingredients in Code Age Keto Carb Blocker diet pills included white kidney bean, green tea extract and cinnamon. This product essentially claims to be a carb blocker. One of the ingredients in this product has been studied as a carb blocker. Limited research has suggested that this ingredient may work this way.
However, the problem with this research is that it has yet to prove that the effect of the white kidney bean ingredient on carb absorption is powerful enough to produce significant weight loss. Therefore, even if Code Age Keto Carb Blocker diet pills does have the claimed effect, there has yet to be scientific research to show that its use will actually bring on weight loss results.
Does this mean that it won't work? No. Perhaps it does! The fact is that there simply isn't enough research to know whether or not it works, if the ingredients are used in the right amounts to provide the desired benefits, how much of the ingredients can be used before there are side effects or other reactions, or if there are conflicts between the ingredients in this product and certain health conditions, food and drink, medications, or dietary supplements.