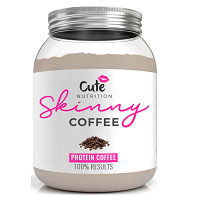 Cute Skinny Coffee is an over the counter weight loss supplement product sold by a company called Cute Nutrition. They have a full range of products developed for the weight loss marketplace. Based in the United Kingdom, dieters shopping for this product pay £24.99 when they purchase it directly from the official website.
The idea behind Cute Skinny Coffee is to use it exactly as you would drink your favorite morning beverage. In this way, the official website's description of the product claims that it will get your day going at an advantage. For instance, it will provide users with an enhanced metabolism.
The product was formulated for "weight loss & fat loss" says the official website. That said, it doesn't say exactly what effect Cute Skinny Coffee will have on the body that will cause fat and weight to be lost. It does describe the taste as "absolutely unbelievable" and points out that this product is high in protein.
According to the product description for Cute Skinny Coffee, it is not meant to be used on its own in order to get the best results. Instead, it must be combined with a healthy balanced diet. In that way, a dieter is supposed to be able to lose weight and fat.
This product is manufactured in the United Kingdom and, according to Cute Nutrition, it is made with the highest quality ingredients. The product package lists those ingredients as a Protein Blend containing Whey Protein Concentrate (Milk, Soy), Micellar Casein (Milk),
Hydrolysed Whey Protein (Milk), as well as Instant Agglomerated Coffee, Flavoring, Sweetener (Sucralose).
Officially, Cute Skinny Coffee is described as "a dark magical substance that turns 'Leave me alone' into 'Good Morning Cutie'."
To use this product according to the package, 3 scoops, 35 grams of the powder is mixed with 500 milliliters of water. It's meant to be enjoyed first thing in the morning, once per day. Every cup of this product has 124 calories, made up of 7.9 grams of sugar, 8.1 grams of total carbohydrates (including the sugar), 1.3 grams of fat and 20.1 grams of protein.
There is nothing to indicate that this product will have a direct impact on weight loss. That said, it may help to provide a fuller feeling than a regular coffee due to its fat and protein content. Equally, a black coffee contains around 4 calories and Cute Skinny Coffee contains 124 calories. Therefore, if both beverages were enjoyed in addition to a good breakfast that also contained a solid amount of protein and fat, it would mean that people using Cute Skinny Coffee would be consuming about 120 more calories by the end of the meal without necessarily experiencing direct weight loss enhancing effects.