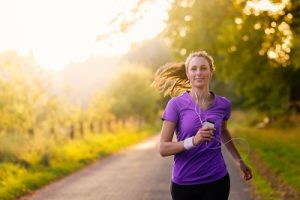 Sure, you can work out at any time of the day or night that works for you, based on your personal schedule. If you are a night shift worker, for example, you might end up working out in the middle of the afternoon when most people are working. On the other hand, if you work during the day, you won't be working out in the middle of the night because you will be sleeping.
So, what's the best time to exercise? When it comes to getting the exercise that you need to lose weight, experts recommend scheduling in morning workouts if you can. Here's why.
Get Your Exercise Session in Before Noon
According to The New York Times, a study discovered that individuals who exercised before noon were able to lose more weight than those who usually worked out in the afternoon (more specifically, after 3:00 p.m.). In other words, morning workouts should be on your to-do list if your goal is to lose weight.
The fascinating results showed that, even when people performed the same workouts, just at different times of day, the morning exercisers were more effective at shedding pounds. So, if you have been experiencing trouble losing weight, despite exercising a lot, perhaps changing the time of day during which you exercise might make all the difference.
Perhaps the fact that early exercisers were able to get more steps in and eat less throughout the day played a role in their ability to lose more weight, but the differences in steps and calorie intake were small. Therefore, experts aren't entirely sure why morning workouts were more effective during the study.
Get Your Workouts In, No Matter What Time of Day
Although experts found that morning exercise sessions usually led to more weight loss, they do recommend working out whenever it works best for you. Even those who worked out later in the day were able to lose weight and get in better shape, so any level of physical activity at any point in the day will be beneficial.
Try Morning Workouts to See If They'll Work for You
If it works with your schedule, morning exercises sessions might help you finally lose the extra weight that you have been carrying around. It is definitely worth giving this strategy a try, and if it doesn't prove to be any more effective, you could always go back to exercising at a different time of day if that is what you prefer.