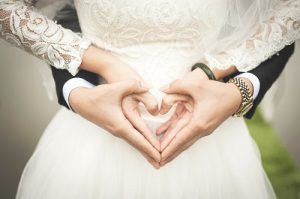 Did you try to lose some extra weight before your big day? Well, you certainly aren't alone! According to Toronto.com, a survey found that nearly 61% of soon-to-be-grooms and roughly 62% of soon-to-be-brides had the hope of losing weight before their wedding, proving that wedding weight loss is a common goal.
Are people who have wedding weight loss on their mind successful? Do they achieve their goals? Check out the information below to learn more.
The Motivation Behind Wedding Weight Loss
Even though brides and grooms have a lot in common when it comes to their reasons for losing weight before their wedding, there are some differences that are worth noting.
For example, the main reasons why brides want to slim before their big day are:
Feeling good
Looking beautiful in their gown
Appearing attractive to their groom
On the other hand, the main reasons why grooms aim to achieve wedding weight loss are:
Looking great when wearing their tuxedo or suit
Appearing attractive to their bride
Feeling good
As you can see, the reasons for losing weight are, overall, the same, but they rank differently between men and women who are getting ready to walk down the aisle. While women are more focused on feeling good about themselves on their wedding day, men place more importance on looking good.
Wedding Weight Loss Diets and Workout Routines
What diets are people mainly using to get closer to their target weight before their big day? Well, for women who are preparing to be blushing brides, the keto diet is the eating plan that is followed most. But, for men who are getting ready to look handsome as they watch their bride walk down the aisle, Weight Watchers is a popular choice, as is intermittent fasting.
What about exercise routines? Well, it turns out that there are also some differences there as well. Women prefer to work out at home, but they also rank running on a treadmill high on their list of favorites. And, they also like doing yoga. But, they really don't like doing CrossFit workouts.
Men who are working hard to slim down and tone up before their wedding prefer running, and they also really like CrossFit. Workouts that can be done at home are also high on their list, but they don't really like biking or cycling to get their heart rate up and build muscle.
Do People Meet Their Wedding Weight Loss Goals?
All of these dieting and exercising goals are great, but they won't be achieved without the right amount of dedication and effort. Anyone who has made a plan to eat right and exercise, only to find themselves falling back into bad habits in no time, knows how hard it can be to stick with a new routine. So, how successful are soon-to-be brides and grooms? Pretty successful, actually!
Around 61% of brides lose some amount of weight before their big day, which is great, but grooms do even better, with nearly 85% of them achieving some level of weight loss success prior to walking down the aisle.
Do You Have a Wedding Coming Up?
Whether you're the bride or groom or you're part of the wedding party, if you have a wedding coming up, you might be motivated to get your body in shape. Coming up with a healthy eating plan that you can stick with, along with an exercise routine that you can feel excited about, will help boost the odds that you will look and feel fabulous on your wedding day.
The thing that you should keep in mind is that any level of weight loss success is a step in the right direction, so even if you don't meet your target weight before your big day, that's totally fine. Just enjoy the experience and take it all in because your size should not dictate how much joy you feel on such an important occasion.