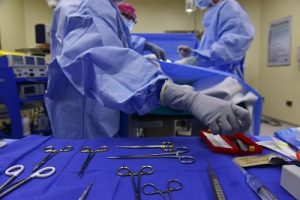 Weight loss surgery is an option for a lot of people who are unable to lose weight on their own, and who are obese and suffering from health complications as a result of their excess weight. But there are pros and cons that come with the many different types of weight loss surgery, so you really need to work closely with your doctor to determine the best route to take.
When it comes to Roux-en-Y gastric bypass surgery, which is also known as RYGB, one important thing to talk to your doctor about is the fact that it might increase your risk of breaking a bone in the future. Check out the information below to learn more so you can be better prepared for your chat with your physician.
Who Is at Risk of Breaking a Bone from This Weight Loss Surgery?
According to Medscape, individuals who decide to try RYGB to tackle their obesity might be at a greater risk of fracturing their bones, particularly when compared with individuals who opt to go through adjustable gastric banding, or AGB, weight loss surgery instead. This includes individuals who are 65 years of age or older.
Because bone health might deteriorate with age, and the strength of your bones can be affected by various factors, it is important to be aware of the risks that might come with different surgeries designed to help you lose weight. Knowing about the risk of fractures with RYGB surgery, in particular, can help steer you in the right direction.
What Experts Have to Say About the Risks
After looking at data from a period of eight years, experts realized that:
Patients who underwent RYGB showed a much greater risk of fractures a few years after their procedure.
Patients had a higher risk of fracturing their hips, wrists, and pelvis.
Those patients who underwent AGB instead were at a lower risk of fractures than the RYGB patients.
The higher risk wasn't really explained by race, sex, age, or diabetes status. The risk patterns were similar between patients who were younger and those who were 65 and older.
Weigh the Benefits vs. the Drawbacks
As you can see, there are risks associated with RYGB surgery, so it's important to work with your doctor and weigh the pros and cons to determine if this is the right path for you to take. Even though the procedure can help you lose a lot of weight, and that can certainly provide health benefits, you might determine that the risk to your bones isn't worth it.