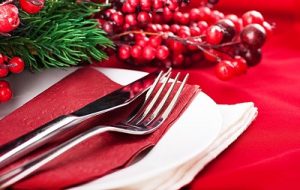 The holiday season is loads of fun, but it also often results in weight gain. Even though you might think that you need to dramatically cut back on the amount of food that you eat every day, it turns out that you can actually eat more and weight less by Christmas. The key is to follow the right strategy. Check out the tips below to discover how.
1. Breakfast Rule: Have a Big Meal
According to The Sun one of the ways that you can eat more, but lose weight, is by having a bigger breakfast. How can this be possible? Well, by having a larger breakfast, you can get your metabolism revving for the day ahead. This, in turn, will help you burn more calories. Just be sure to have a healthy breakfast that is high in fiber. This will help you feel full and satisfied, and it will keep you feeling full, so you can avoid snacking before lunch or having a lunch that's too high in calories.
2. Lunch Rule: Don't Have It After 1 p.m.
You don't have to skip lunch in order to lose weight. Instead, just be sure to have your lunch before 1 p.m. This handy strategy will help you avoid cravings that might end up throwing you off course. Also, like breakfast, your lunch can be bigger than you might think. If you consume up to 400 calories by enjoying a healthy lunch, you can keep yourself full and energized until dinner. For example, rather than having a salad, opt to have a nutritious stir-fry.
3. Dinner Rule: Reduce the Portion Size
Although you might think that it's okay to have a large dinner, if you want to lose weight during the holidays, make this a smaller meal. A dinner that is lower in calories is best, and be sure to keep the portion small and the ingredients light. Then, if you want dessert, opt for healthy options like sweet fruit dipped in dark chocolate. By following this strategy, you will be able to head to bed and then wake up the next morning feeling hungry enough to have your bigger breakfast.
Enjoy the Holidays without the Weight Gain!
You don't have to make huge sacrifices during the holiday season if you don't want to gain too much weight by the time the new year rolls around. Instead, use the tips above to keep yourself full and satisfied with tasty foods, without having to worry about excessive weight gain.