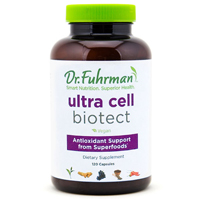 Dr Fuhrman Ultra Cell Biotect is a non-prescription supplement meant to help dieters to be able to lose weight more quickly and easily than they could if they were exclusively following a diet and exercise strategy. According to the official Dr. Fuhrman website, this product works by boosting phytochemical levels in order to enhance the body's natural antioxidant defenses which help to neutralize free radicals in the cells.
At the time of the writing of this review, the Dr Fuhrman Ultra Cell Biotect ingredients were: Greenselect Phytosome (a green tea extract the body may be able to absorb more readily than the standard version of the ingredient), capsicum annum powder (black pepper), Curcumin C3 Complex (a version of turmeric extract meant to be easily absorbed by the body), Sirtmax (black turmeric kampferia parviflora extract) and Enovita (European grape seed extract). These capsules are vegan friendly, gluten free and are non GMO.
This supplement is not meant to be used on its own in order to cause weight loss. Instead, the official site recommends that it be used in conjunction with a healthy diet and regular exercise.
The descriptions provided on the website regarding the typical cellular metabolism, the struggle with free radical damage and the importance of antioxidant phytochemicals to overcome or prevent that damage do have a certain degree of merit. However, that site also implies that this type of effect could have the potential to cause someone to lose weight faster than they could on their own. It is at that point where there is some deviation from what reputable science has proven and published in medical journals until now.
As important as antioxidants may be, there has yet to be proof that this combination of ingredients, in these quantities, will function to slim down the body in the way the manufacturer suggests. That said, in terms of acting as antioxidants and even anti-inflammatories, the more general benefits are likely there. While this product could potentially be safe, current research has yet to prove that it would make a measurable difference to dieters.
Before taking this product, it is recommended that dieters speak with a doctor. The reason is that some of these ingredients can conflict with certain medical conditions and may also cause interactions with other supplements or prescription or nonprescription drugs. It is unlikely that a doctor will recommend this product, but it is still important for the consultation in the name of safety.