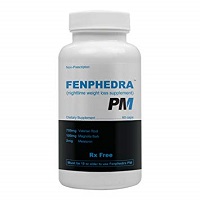 Fenphedra PM is a non-prescription over the counter night time dietary supplement that is completely stimulant-free. It is developed for the purpose of encouraging weight loss throughout the night. The manufacturers of this product say it will help users to reach their weight loss goals by providing the support they need overnight. At the time of the writing of this review, the price for a thirty day supply of this product was $29.95.
At first glance, Fenphedra PM's official website and description make a very good impression. The reason is that the company behind this product doesn't pretend that using it will perform miracles or magic. Moreover, it doesn't claim that weight loss will occur without also eating right and exercising during the day. Instead, it promises to help to boost the body's ability to benefit from the effort made during the daytime by giving it a boost at night.
However, as great as that all sounds, and as much as there is information about this product on the website, the site doesn't do much to actually say what Fenphedra PM is supposed to do or what its benefits are. It says that it benefits dieters overnight, but doesn't specifically say how or what difference it makes.
The consumer is expected to do his or her own research into the product and its ingredients. That, or a dieter is simply supposed to take the pill and assume that something good is happening in his or her body during the night.
The ingredients making up the Fenphedra PM formula at the time this review was written included: Vitamin C, Vitamin D3, Chromium, Chormax, GABA, Irvingia Gabonensis, Magnolia Bark Extract, Phellodendron Amurense Bark, Melatonin, and LactoSpore.
It is clear that this product is meant to be used as much as a sleep aid as it is a weight loss pill. The melatonin in this product is a hormone supplement for a chemical found naturally in the body. Many studies have found that people who struggle to get a good sleep at night have low melatonin levels. Therefore, many people believe that by supplementing melatonin, it will help them to reset their sleeping and waking clock.
According to the package instructions, users are supposed to take 2 capsules with an 8 to 12 ounce glass of water about 1 to 2 hours before bedtime. It is important not to take this product in combination with alcohol. Moreover, users should not drive, operate heavy machinery or do anything else requiring alertness after having taken this pill.