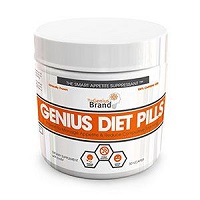 Genius Diet Pills are an over the counter diet pill supplement. They are made by The Genius Brand and are sold as a caffeine-free weight loss product. This is an appealing claim for dieters who struggle with stimulants and would rather use a supplement that doesn't contain them.
The Genius Diet Pills website claims this product works as an appetite suppressant. These types of weight loss supplements are designed to help people to find it easier to eat less. Often, when dieters try to cut back on their calories, it means they also eat less food until they learn how to balance their calories among more satisfying meals throughout the day.
As a result, many people struggle with feelings of starvation when they diet. Appetite suppressants can help them to overcome those challenges. According to the claims about Genius Diet Pills, they also help to reduce food cravings while they shrink the appetite. Moreover, they also provide mood support.
This is an impressive list of benefits. That said, it's up to the individual dieter to do his or her homework to be sure the pill will not only work but will be appropriate for their unique dieting needs and expectations.
To start, it's always a good idea to speak with a doctor. Next have a closer look at the two active ingredients that comprise this formula. The ingredients are: 5-HTP and Satiereal Saffron. The official website for this product did not cite any studies to support the use of these ingredients individually or together for the purposes of weight loss.
There is some research to suggest that 5-HTP could offer some benefits that may be helpful to dieters that are following a reduced calorie diet, and who are exercising on a regular basis. Any research regarding the use of satiereal saffron is still considered to be preliminary. At the time of the writing of this review, dosage or usage instructions were not provided on the site.
Some side effects are associated with the ingredients that comprise this formula for these diet pills. They may include drowsiness, nausea, vomiting, stomach pain, muscle problems, sexual dysfunction and diarrhea.
It is recommended that you speak with your physician before you start taking Genius Diet Pills or any other weight loss supplements. This will help you to know that the options you have selected will not only have a chance at working, but that they will be safe for your unique medical needs and weight loss expectations.