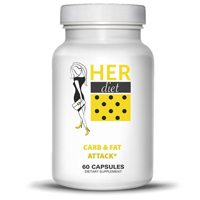 HERdiet Carb and Fat Attack is a weight loss pill marketed specifically to female dieters. It claims to be able to help women to create a "beautiful physique." The product is meant to be used to help women to be able to get past the drawbacks linked with living the Western lifestyle and eating a Western diet.
The official website for HERdiet Carb and Fat Attack points out that many of the typical habits associated with living this way are life-long. Since these habits are cultural and are ingrained in many of us from very early childhood, it can be very difficult to change them. That said, if the official website is to be believed, using this product in conjunction with healthy eating and regular exercise can make changing the habits faster and easier.
The site does not claim that using HERdiet Carb and Fat Attack will produce miraculous effects. That said, it also does not claim that all a user's struggles will disappear along with the use of this product. However, it does provide a substantial start in the right direction, says the site. While this doesn't prove that the product will work, at least it doesn't promise the type of over-the-top claims that many companies have resorted to making.
The directions for this diet pill recommend that it should be used alongside the same type of diet and exercise efforts used with prescription diet drugs such as Phentermine. Any reputable diet pill will typically make this type of recommendation as it is the only way for a support product to work. No pill – prescription or over the counter – can cause weight loss to occur and stay off without the addition of proper dieting and exercise.
At the time of writing of this review, the HERdiet Carb and Fat Attack ingredients were: white kidney bean extract, garcinia cambogia extract and cascara sagrada. These are all common substances making up diet pills in the nonprescription market.
The official website for this product does provide a brief description of each ingredient. Moreover, it also explains why each one was selected to be included within these pills. That said, it did not go so far as to cite reputable medical studies published in peer-reviewed journals. Therefore, this requires a dieter to do his or her homework to find out if research has been done and what has been found. Otherwise, it would require the dieter to blindly believe the company trying to sell these diet pills.