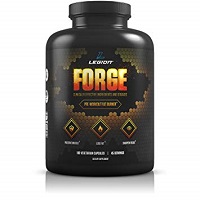 Legion Forge is a non-prescription
weight management pill
. Its official website claims that it helps dieters to lose weight faster, particularly the "stubborn" fat in the hip, thigh, and belly areas.
This product is based on trying to obtain the benefits of workouts on an empty stomach. The idea is to use Legion Forge to gain the benefits without the struggle of that actual practice.
Legion Forge for Empty Stomach Training
Exercising on an empty stomach is a common trend. The belief is that it forces the body to burn stored fat for energy. After all, the body hasn't been given any food for that fuel. However, there are many drawbacks to trying to do workouts on an empty stomach.
The process is challenging to achieve and even when it's done right, it can cause poor workout performance, weakness, dizziness and other problems. Moreover, the impact it makes isn't nearly as large as many would suggest.
Legion Forge Claims to Change this Situation
According to the official site, the difference Legion Forge makes includes:
• Maximizing the amount of fat lost while training on an empty stomach.
• Minimizing muscle loss while training on an empty stomach.
• Helping to keep up focus and intensity during workouts, which is difficult while training without any food for fuel.
Diet Pill Ingredients
At the time this Legion Forge review was written, the ingredients it contained included:
Calcium,
Calcium beta-hydroxy-beta-methylbutyrate (HMB),
Citicoline,
Yohimbine HCl
From this list, it's clear that this product is mainly based on a strong stimulant. This helps to explain why the product claims to keep up focus and energy levels during a workout. The reason is that boosting energy and alertness is exactly what stimulants do.
At the same time, it's important to know that the stimulants in Legion Forge will also cause many dieters to experience side effects. This is particularly true among dieters with stimulant sensitivities. Moreover, side effects from stimulants are more likely when the product is used on an empty stomach. Considering the nature of this product, it was designed specifically to be used on an empty stomach.
It's therefore very important to speak with a doctor before using this product. This will help you to know if it is safe for you to use, let alone if it is likely to work the way you want it to. Moreover, your doctor will also be able to tell you about better products for you if this is not right for you. Keep in mind that these ingredients are not safe for everyone. Dieters with certain common medical conditions should not use this product.