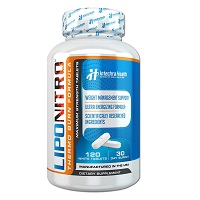 LipoNitro is a high-powered formula created to provide well balanced weight management support. This over the counter supplement was formulated by Intechra Health Inc.'s weight management experts. They applied great care and precision to the development of a balance among the highest quality ingredients with significant clinical research.
Every LipoNitro pill is both manufactured and quality tested in the United States. These tablets are produced to provide a legal and viable alternative to some of the leading prescription diet drugs such as Adipex and phentermine.
That said, this formula is made exclusively of scientifically researched substances. As such, it does not use ineffective extracts, herbs or minerals as filler. Equally, it does not lean on banned or dangerous substances such as ephedra, synephrine or other ingredients about which the F.D.A. has issued a ban or warning to dieters.
Instead, LipoNitro users enjoy only the highest quality ingredients. They can feel confident in knowing that each substance has gone under the scientific microscope to be better understood. In this way, users receive full support for pursuing their healthy weight management strategy.
In fact, the exact same eating and fitness plans recommended alongside the use of prescription diet drugs can also promote better weight control while using LipoNitro. The ingredients comprising these tablets stimulate the central nervous system. This produces a range of effects that can help users to overcome some of the top challenges they face in their weight management efforts.
For instance, right from the start, the energy-boosting ingredients in this formula can provide a significant advantage. Many dieters struggle with the challenges associated with fatigue. After all, when you cut back on calories, you're not receiving as much energy from your food. Furthermore, when you're exercising more regularly, you burn through more of your daily energy.
These two situations combined can make many dieters feel like they're dragging. That is only compounded by a busy lifestyle. Therefore, extra energy can help to provide just what is needed to be able to stick to those healthy eating and exercising habits without running out of steam. Dieters who don't give up on their lower-calorie meals and daily workouts are far more likely to consistently lose the pounds they're trying to shake.
The clinically researched LipoNitro ingredients include a THERMO BURN complex composed of: L-Glutamine, Taurine, Caffeine, L-Theanine, and L-Phenylalanine. All these substances are compressed into a small white maximum strength tablet that is easy to swallow.