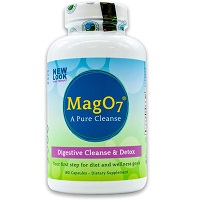 Mag O7 diet pills are a non-prescription supplement based on a cleanse.  They call themselves "more than just a stool softener", which helps to understand what they are right off the bat.  They claim that they provide the "ultimate oxygenating digestive system cleanse".
What Does Mag O7 Do?
The official website claims that Mag O7 releases oxygen as it makes its way through the digestive tract.  This oxygen is received by "healthy bacteria" providing it with support.  This is accomplished through an overnight cleansing process that uses a formulation based on oxygen and magnesium.
Though it claims that the product is "used and promoted by many leading Health & Wellness experts, nutritionists and enthusiasts", the truth of the matter is that most doctors recommend against cleanses.
Why Cleanses Aren't Typically Recommended
Doctors often advise against cleanses because the body simply doesn't need them.  The types of cleanse described through the use of Mag O7 can be stressful for the body and many of its organs and systems.  If you are regular, then your body is already eliminating everything it needs to, without stressing your organs or promoting dehydration.  Claims of detoxification of organs such as the kidney or liver through a potent diet pill should be taken with a grain of salt. As any surgeon will tell you, toxins don't build up in these organs. It's simply not how a healthy person functions.
What Are the Mag O7 Ingredients?
Mag O7 is based on a proprietary blend it calls MOXiO3, which is oxygenated magnesium, as well as potassium. It is, therefore, a laxative that has been enhanced with oxygen.
The company behind this product, Aerobic Life, does not cite any research that suggests that the oxygen released through the use of this product provides any benefit to the bacteria throughout the digestive system.  In fact, it doesn't even cite research that indicates that the good bacteria in the digestive system needs oxygen to survive.  This is not to say that the product doesn't work, but that it doesn't back up its claims.
Will it Help with Weight Loss?
If your weight is caused by bloating from constipation and simply eating a few high fiber meals hasn't moved anything along, then the bowel movements caused by this laxative may help you to get things going again. However, this product will not help you to burn an additional measurable amount of fat and will not provide long term effects of that nature.