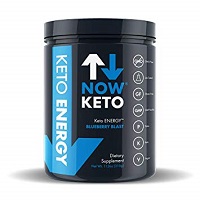 NowKeto Keto ENERGY Ketones is a non-prescription supplement developed for people following a ketogenic diet. It is meant to give this high fat, low carb lifestyle an "extra kick". Moreover, it also promises to increase ketosis while helping to cut back on carbs.
NowKeto Keto Energy Ketones Ingredients
The NowKeto Keto ENERGY Ketones diet pills are meant to be used ahead of a workout. They are meant to provide extra energy and fuel to every workout in order to help users to get the most out of their activities. At the time this review was written, the ingredients in this product included: PureMCT™, PureBHB™ Exogenous Ketones, BHB Beta Hydroxybutyrate Mineral Salts, Creatine, Beta-Alanine, Green Tea Caffeine, Citrulline, and Tyrosine.
The MCT in this product is advertised as containing C8, C10 and C12, with a claim that this will help to optimize performance. That said, the official product page on the NowKeto website doesn't support that claim with any reputable science published in a peer-reviewed industry journal. Therefore, while it may very well be true, the brand hasn't provided dieters with any way to actually verify that for themselves.
How to Use This Supplement
In order to take NowKeto Keto ENERGY Ketones as directed, users will mix this powder into a beverage in the morning, before going to the gym, and any other time when they want to boost their energy levels in order to perform better. It is sold in a Blueberry Blast flavor that has received positive reviews from many customers who like the taste. At the same time, in order to be appropriate for ketogenic dieting, it is indeed sugar-free and low-carb.
While it is mainly meant to be dissolved into water as it is a soluble powder, it can also be mixed into a shake, smoothie, yogurt or similar food if that's how a user prefers it.
Claims About NowKeto Keto Energy Ketones
According to the brand's official site, NowKeto Keto ENERGY Ketones users can expect to experience improvements to their:
Physical stamina and overall energy levels
Mental clarity and general performance levels
Keto diet and exercise plan (though there is no specific description of exactly what is being improved other than it is "designed to maximize" those factors)
Pre-workout or daily supplementation (again, it doesn't say what specific benefit, but that it is "great" for those purposes)
Digestion of the formula
Ketosis following the consumption of carbs
This company also has a social responsibility factor. Every time NowKeto Keto ENERGY Ketones is purchased, NowKeto donates a year's supply of vitamins to a mother or child in need.
Alternative Diet Pills for Keto Dieters
Another product that is making waves as one of the best keto diet pills is KETO FASTCUT.  This diet pill goes directly to the core of what you need to succeed with your ketogenic diet.  Its ingredients are Organic Acacia Senegal Powder, Magnesium BHB, Calcium BHB, and Sodium BHB, each of which have been clinically researched so you can be confident in taking these capsules every day. It supports you by boosting ketone levels, assisting in autophagy, replenishing electrolytes and simply reducing your overall struggle with ketogenic dieting.
You Can Also Give KETO FASTCUT a Try!
If you are looking for a different option than NowKeto Keto ENERGY Ketones diet pills, definitely look into KETO FASTCUT. This is another product that is making waves as one of the best keto diet pills on the market today. It is available for purchase over the counter, and it is manufactured in the United States using high-quality ingredients that have been clinically studied. Those are qualities that aren't easy to come by in other diet pills!
How does KETO FASTCUT work? Well, it helps to replenish electrolytes to give you more energy, and it contains BHB salts that help increase ketone levels for ketosis and fat burning. Plus, it contains prebiotics to help support your digestion while following a low-carb diet.
Now that you know about the keto diet pills, what are you waiting for?