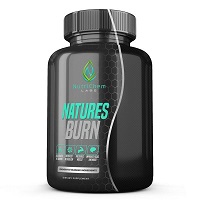 Nutrichem Labs Natures Burn is an over the counter supplement product that claims to help the body burn through more calories and fats. At the same time, it also says it boosts muscle preservation. This product is made by Nutrichem Labs, a company that manufactures its products in the United States.
The product is based on three proprietary formulas. The first is called the Nutri Burn B-Complex. It contains: Vitamin B3, Vitamin B6, Folic Acid and Vitamin B12. The second is called the Nutri Burn Fat-Burning Blend. It contains garcinia cambogia, glucomannan, caralluma fimbrata, green coffee bean extract, green tea extract, guarana seed, caffeine anhydrous, raspberry ketones, 5-HTP, CLA powder, coleus forskohlii and synephrine HCl. The third is called the Nutri Burn Amino Blend and contains: L-carnitine, L-arginine, L-tyrosine and L-glutamine.
This is clearly an extremely long list of ingredients. As these are proprietary formulas and only the total weight is provided and not the amount of each individual ingredient, it is impossible to know whether or not there is enough of any of the studied ingredients to produce the same effects that have been found in research.
While there are some impressive ingredients in this list, several of which have scientific backing, such as CLA and caffeine, among others, it is disappointing that this brand went so far as to add both caffeine and synephrine to its formula. While both of these ingredients have independently been found to have certain potential benefits to dieters, this combination is not recommended.
These are both stimulants (and there is more caffeine in other ingredients in this formula, such as the guarana seed). Though independently, caffeine and synephrine provide an energy boost and metabolic support, the FDA has released warnings to consumers not to use diet pills that contain both ingredients together. The reason is that the combination of caffeine and synephrine has been associated with a heightened risk of heart-related incidents such as heart attack and stroke.
As a result, despite the fact that there are some promising ingredients in the rest of this formula, it is unlikely that a doctor would give the nod to using it. Still, if you are considering using this product, it is highly recommended that you speak with your physician, first, to be sure it will be safe for you. Some of these ingredients conflict with certain medical conditions, other supplements, foods, beverages, and common prescription drugs.