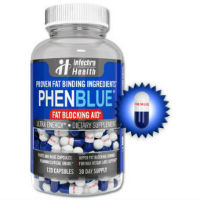 PHENBLUE is a weight management support pill that can be purchased over-the-counter. It is manufactured in the United States, and its ingredients can help support healthy weight management, in combination with nutritious and calorie-controlled eating and a consistent exercise routine with plenty of physical activity.
PHENBLUE's Formula: Support for Your Weight Loss Efforts
PHENBLUE's ingredients have been clinically studied, and they can help enhance your physical and mental stamina.
With more physical energy, you can find it easier to get to the gym and power through even the toughest workouts. No matter how busy your day has been, with plenty of energy to spare, you won't have to keep putting your workouts on the back burner. And, by working out more often, you can burn more calories and fat than you otherwise would.
With improved mental focus, you can also find it easier to stick to your healthy eating plan. Following a low-calorie diet that is packed with nutritious foods that nourish your body is a great way to manage your weight, and PHENBLUE's ingredients can help you achieve that focus so that you won't falter.
What Are the Ingredients in PHENBLUE?
Now that you know about the benefits that you can derive from PHENBLUE, you might be thinking, "What are the ingredients in PHENBLUE?" Well, the active ingredients include NeOPuntia® (Prickly Pear), Caffeine (150mg), Organic Green Tea (Matcha) Leaf Powder, and Theobromine. As you can see, many of these ingredients are easy to recognize.
Always Consult with Your Doctor for Additional Advice
Not sure if PHENBLUE is really the right choice when it comes to an over-the-counter weight management formula that can help support your efforts to slim down? Then consider talking to your doctor. Just remember that PHENBLUE works best when it is taken according to the instructions on the label, and when it is taken in combination with a healthy diet and exercise routine.