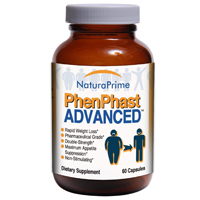 PhenPhast is a weight loss supplement made and manufactured by a company called NaturaPrime. It is marketed as a diet pill that is supposed to help people to lose weight quickly. This product is designed to function as an alternative to Phentermine, which is a prescription diet drug.
What is PhenPhast Supposed to Do?
According to the claims about this diet pill, it is supposed to help dieters by functioning as a thermogenesis booster. It is also supposed to raise energy levels, support mental focus, suppress the appetite and promote a faster metabolism.
A Lack of Official Information
At the time of the writing of this PhenPhast review, neither that individual product nor NaturaPrime appeared to have an official website. This makes it very challenging for consumers to be able to know precisely what the company behind the product is claiming about it. For the purposes of this review, all information was gleaned from third party sites, most of which were selling the product. However, it's important to note that the claims made on those sites may or may not reflect what the NaturaPrime brand stands for.
NaturaPrime PhenPhast's Unspecific Claims
The claims made on other sites selling the product state that users can safely lose 15 pounds or more by using this product. That said, none of the claims about the way it functions or about the results it can provide are supported by any cited research.
Shopping for This Pill
At the time of the writing of this review, the product was also being sold on Amazon.com for $23.99. Interestingly, when searching for the product on Amazon, another product was suggested, called PhePLUS, which had the identical packaging, marketing image and claims on its images, though its manufacturer was listed as BSkinny Global. Even the logos were identical for both products.
This suggests that either there is a parent company that owns several brands and is marketing them all identically, one product has stolen from the other, or one is being phased out while the other is being phased in to introduce it. Unfortunately, as neither product nor manufacturer has an official website, it is impossible to verify which among those is the truth.
PhenPhast Ingredients
At the time this review was written, the product label for PhenPhast contained the following list of ingredients: L-Carnitine, L-Ornithine, L-Arginine, L-Glutamine, Tyrosine, Tryptophan, Beta-Alanine, GABA, Hoodia, Chromium, African Mango, Grapefruit Powder, Green Tea Leaf Extract, EGCG, Glycyrrhizin Extract, Panax Ginseng, Gymnema Sylvestre, Coleus Forskohlii, Astragalus, Maca Powder and Grape Seed Extract. Those substances total 1,000 mg per serving and make up the PhenPhast Advanced Complex.
PhenPhast Update April 2021
As of April 2021, all signs of the sale of PhenPhast have been removed, based on extensive searching online.  It appears that this product and its claims of being a type of replacement for prescription diet pills online have been discontinued. This is not entirely surprising when considering everything from the nature of the product's ingredients list and the claims made about using the pill.