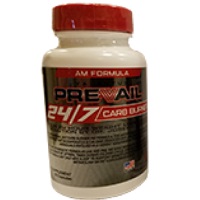 Prevail 24/7 Carb Burner AM Formula is a non-prescription weight loss support formula.  It is marketed as a fat burner that will let dieters experience faster weight loss during the daytime.  This is meant to be used along with a PM formula that will provide similar support overnight.
The Prevail 24/7 Carb Burner AM Formula official website claims that it will help dieters to lose weight and keep up a healthy metabolism all day long.
Who Created Prevail 24/7 Carb Burner AM Formula
Prevail 24/7 Carb Burner AM Formula was developed by Dr. Ahrens.  According to the official website, Ahrens has been nominated for a Nobel Prize on two occasions (though not in areas relating to metabolism or weight loss).  He specializes in plant and animal physiology, and has more recently placed a focus on metabolic sciences.
Ahrens has spent more than thirty years in agribusiness and is now associated with a large number of different types of health and wellness products. It is unclear how involved he is in the development of these products as many mention his name but don't specifically identify how he participated in their creation.
Prevail 24/7 Carb Burner AM Formula Ingredients
The ingredients in the Prevail 24/7 Carb Burner AM Formula are primarily common substances in the weight loss industry, only in trademarked forms.  These include:
FruitSource (Pear Powder)
VegiSure (Green Coffee Extract)
Green Coffee Extract
Moranoline AMP (Mulberry Extract)
Damiana Extract
Raspberry Extract
Enxtra (Galanga Extract)
ArionaPure (Chokecherry Powder)
This capsule is made with gelatin, which means that it is not vegan friendly and will not suit some vegetarian diets.
How to Take This Diet Pill
According to the package recommendations for this product, users should swallow one Prevail 24/7 Carb Burner AM Formula capsule at breakfast.  A second capsule should be swallowed at lunchtime.  That said, it specifically states that this product can be taken with or without food.  This pill shouldn't be taken late in the afternoon as it is meant to be used as a complement to the PM version of the formula and two of those capsules will be taken close to bedtime.
Regardless of whether or not this formula could help dieters, the marketing is quite dubious, leaning heavily on Ahrens' Nobel nominations, despite the fact that they are not related.  This product was not a part of the research that had to do with Ahrens' recognition.  Moreover, none of the ingredients – nor the complete formula – have been proven to result in fat loss.