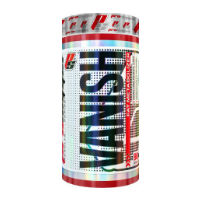 Pro Supps Vanish is a non prescription weight loss supplement that is meant to function as a fat burner. According to the manufacturer for this product, it has been designed to offer the "ultimate" experience when compared to the other products it has developed within the fat burning diet pill category. This product is meant to function not only as a metabolism booster but also as a product that will enhance mental alertness and thought clarity. It is an appetite suppressant while controlling cravings. Together, these effects are supposed to cause fat to be lost from the body.
One thing that has been found to be rather interesting about Pro Supps Vanish is that some, but not all, of the bottles of this product reportedly include an ingredient that is known as aegeline. It is important to know that this is the case, as aegeline has been connected with some severe unwanted side effects, such as the risk of serious liver damage in certain users.
For this reason, it is exceptionally important that you speak with a doctor before you decide that Pro Supps Vanish is the right option for you. For many people, this supplement could come with potential danger, so it's a good idea to check with a physician to make sure you don't fall into that category. Without the assistance of a doctor, it is likely best to move on to another product. That said, before using any product, it is still wise to talk to a licensed medical professional.
At the time this product review was written, the official website for this diet pill listed the ingredients in the formula as being: niacin, calcium, caffeine, caffeine citrate, Infenergy™(dicaffeine malate), hordenine HCL, green tea leaf extract, evidiamine and silbutiamine, alpha lipoic acid, GABA, N-acetyl L-tyrosine, rhodeola rosea root extract, huperzia surrata club moss extract, dandelion root extract, 5-HTP, yohimbine bark extract and rauwolfia vomitoria root extract.
Anyone considering this product should know that even if the formula without aegeline is purchased, there are still some substances within this product that have the potential to cause unwanted side effects in both dieters and bodybuilders who are trying to use it in order to burn excess fat from their bodies. This is because there are several different stimulants all within this one product. Stimulants, by their very nature, can cause unpleasant side effects in some people. They can include jitters, anxiety, headaches, nausea and several others.