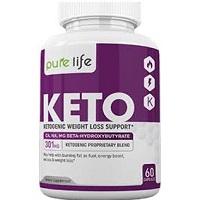 Pure Life Keto is an over the counter weight loss supplement with claims of helping dieters to get the most out of their results.  They were developed for people who are following a ketogenic diet, which mainly involves cutting way down on carbohydrates and replacing those calories with healthy fats and some proteins.
What Are Pure Life Keto Diet Pills?
Pure Life Keto diet pills are capsules that contain 800 mg BHB (Beta-hydroxybutyrate).  The description for this product on Amazon.com, which appears to have been made by the pill's own manufacturer has some rather baffling ways of describing that ingredient quantity.
The first is that it is described as being "extra strength".  As this is not a medication, there isn't a standard strength or extra-strength version. The 800 mg is just the measurement of how much of the ingredient is in each serving.  The second is that it refers to the measurement as the ingredient's potency.  The 800 mg does not refer to a potency but is a quantity.  There is no way to know whether there is 800 mg of highly potent ingredients in this product or whether they are weak in strength.  That amount measures how much of the substance there is in weight but does not define its quality or how strong it may be.  Whether it is fresh or stale, the weight is the same.
Misleading Product Description Claims
The product description also claims that the BHB in the Pure Life Keto capsules help your body to burn fat instead of carbs.  It claims that the reason many people don't lose weight on a regular diet is that the body is burning carbohydrates instead of fat.  This implies that body fat and dietary fat are the same thing, which they are not.  This implies that the maker or the marketer for this product does not understand keto dieting, the process it is promising to support through the use of its products.
The description also indicates that users of Pure Life Keto will no longer suffer from cravings while they receive support in achieving their fitness goals.  It is not at all made clear how this is supposed to work or what benefits the pills provide in order to provide those advantages.
This product claims to be scientifically formulated.  It is manufactured in the United States. Its ingredients include:
Calcium
Beta-hydroxybutyrate (BHB)
Silicone Dioxide
Stearic Acid (Vegetable)
Magnesium Stearate (Vegetable)
Package directions recommend taking two capsules once per day, about a half hour before a meal, with an 8 ounce glass of water.