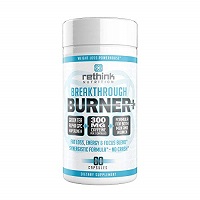 Rethink Breakthrough Fat Burner+ is a non-prescription diet pill that claims to improve energy and "cognitive performance". It claims that its formula achieves this goal through ingredients that "work synergistically". That said, its main claim is that by taking a pill with these benefits, an individual will be able to achieve improved fat burning.
The official webpage for this product on the brand's website provides very limited information in the form of a single paragraph description as well as images of the product package. The product focuses a great deal on the stimulant effects of this product. Interestingly, it tries to suggest that the caffeine content (150 mg) in this product is mild enough not to give a user the jitters by describing it as having less than a cup of coffee. That said, the cup of coffee they are describing is 16 ounces (with 190 mg of caffeine), which is twice the average cup of coffee.
This is an odd type of deception, especially because the average person would sip at 16 ounces of coffee gradually over time. On the other hand, there is nothing to suggest that Rethink Breakthrough Fat Burner+ would take effect gradually. Therefore, this could mean that taking this pill would be the same as drinking a cup and a half of coffee as a shot.
Furthermore, by taking a closer look at the package direction, it shows that each capsule contains 150 mg of caffeine, but you are supposed to take two of them. This means that each recommended dose of Rethink Breakthrough Fat Burner+ contains 300 mg of caffeine, which would be the equivalent to taking three cups of coffee as a shot. This would most certainly cause many users to suffer from jitters in addition to a spectrum of other unwanted symptoms.
At the time this review was written, the Rethink Breakthrough Fat Burner+ ingredients were: green tea leaf extract, alpha GPC, caffeine anhydrous, black pepper fruit extract (BioPerine), and Huperzia Serrata extract.
The official description specifically states that Rethink Breakthrough Fat Burner+ is not a "magic supplement" which is a refreshing statement in the weight management product industry. However, with all the deception regarding caffeine, which was clearly the formula's main active ingredient according to the description, it makes it difficult to trust any of the other existing statements made by the company.
It is highly recommended that anyone considering the use of Rethink Breakthrough Fat Burner+ first consult with a medical professional as it contains ingredients that may conflict with prescription drugs, over the counter medications, supplements and certain foods. Moreover, there is enough caffeine in this product to cause unwanted side effects among many users.