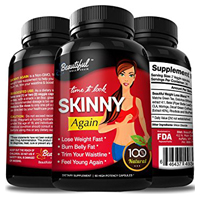 Skinny Again is a nonprescription weight loss supplement manufactured and sold by a company called Beautiful Once Again. The main claim about this product is that it will help dieters to be able to quickly lose the pounds, burn through belly fat, slim down their waistlines and even feel more youthful. These are some powerful claims for a single over the counter dietary supplement.
That said, just because the claims are big, it doesn't mean that they aren't true. The only way to know for certain is to look into the product's ingredients, reviews and the company's overall reputation.
To start, Skinny Again is a 100 percent vegan, non-GMO and all-natural supplement. It is manufactured in an FDA registered facility. Still, it's important to note that this doesn't mean the product is FDA approved. In fact, it doesn't even mean that the FDA knows what its ingredients are. It just means that the pills are manufactured in a facility that passes required tests for cleanliness and employee safety, and that its practices ensure that the pills are made in a way in which they all contain the same balance of ingredients, regardless of what those substances are.
The official website for this product also claims that it will help users to regulate their blood sugar levels. It states that their mood will be enhanced, their energy levels will improve, their stress and anxiety will shrink, and their food cravings will be diminished. The length of the benefits list for this product would make it sound like a miracle product.
The next step for investigating this product is to look at its ingredients. At the time this review was written, the Skinny Again ingredients were: Matcha Green Tea, Dolichos Biflorus, Betel, CLA, Moringa, Decaf Green Coffee Bean, Rhodiola and BioPerine. In every serving, which is made of two capsules, there is a total of 1,300 mg of this formula.
There are some ingredients in this product with some scientific support for use by dieters – matcha green tea and CLA stand out among them – this formula certainly doesn't have the type of medical research backing its individual ingredients or its formula as a whole to make the long list of claims it has shared on its official website. Even with the BioPerine which helps to ensure the best possible absorption of the other ingredients.
It is highly recommended that anyone considering buying diet pills such as Skinny Again first speak with a medical professional.