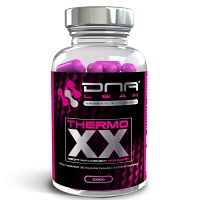 Thermo XX Fat Burner for Women is a non-prescription weight loss aid that calls itself one of the best currently available. This product is manufactured in the United Kingdom by a company called DNA Lean. It claims to be one of the most ten most popular weight supplements among women in the U.K. That said, the sales page for this product on the manufacturer's website didn't provide a source to back up that claim.
The Thermo XX Fat Burner for Women formula was created with the intention of stimulating thermogenesis. Thermogenesis is the process by which the body produces heat. To do this, it needs to burn calories or body fat as fuel. Therefore, when thermogenesis rises, so does the need for that fuel.
The description for this product also says that Thermo XX Fat Burner for Women promotes fat burning as energy and aids in weight loss. It also states that it might also provide natural water balance support.
To do this, it uses a Thermo XX Fat Burner for Women formula made of: bitter orange (whole citrus aurantium), green tea leaf extract, meadowsweet, dandelion root, uvi ursi, organic acai palmberry, cayenne, Bioperine, L-tyrosine, ginkgo biloba, huperzine A. These are all quite common ingredients in the over the counter weight loss industry.
From this list, it's clear that the formula is meant to be based on strong stimulants and diuretics. Of the claims made by this product's manufacturer, it's likely that the ones most likely to be the most reliable are energy boosting and water loss. Neither of these will lead to fat loss. That said, extra energy can help to make it easier for you to keep up with an active lifestyle. Exercising more will help you to burn more calories.
On the other hand, the diuretics won't help with fat loss at all. They are the ingredients that provide the "water balance support", provided that is referring to water loss from the tissues of the body. While this can provide a temporary reduction in body weight due to increased urination flushing out excess water weight, it won't change fat levels. Moreover, water weight loss is temporary and the pounds will return once the user hydrates again.
According to the package directions for Thermo XX Fat Burner for Women, to use this product properly, take 1 to 2 servings per day with water. It is meant to be taken on an empty stomach for the best possible results. Because of the high stimulant content, this product should not be used within 4 hours of bedtime.