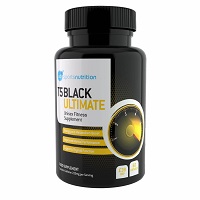 WBP T5 Black Ultimate is an over the counter weight loss supplement developed for people who are active and trying to burn fat. It is specifically meant for individuals who want to improve their performance so they can burn away unwanted layers of fat on the body.
According to the official Well Being Pro website – that is, the site of the product's manufacturer – these diet pills deliver "on multiple levels for multiple individuals".
Among the benefits WBP T5 Black Ultimate promises to provide includes stimulation, mental performance "herbal refreshment", thyroid function and fat metabolism. The ingredients in this diet pill which are supposed to deliver those benefits are: Caffeine, L-Tyrosine, Beta-Alanine, Capsule Shell (HPMC), Green Tea (40%), L-Phenylalanine, Grape Extract, Colouring (Activated Charcoal), Pantothenic Acid (B5), Iodine, Chromium.
The stimulation in this product is meant to enhance physical energy and endurance in order to support better performance. The substances from the formula meant to provide those advantages are caffeine and beta-alanine.
Mental performance is, according to the website, improved through pantothenic acid (vitamin B5). This is supposed to help dieters to overcome fatigue and mental tiredness while enhancing mental performance, memory, concentration, learning and reasoning.
Herbal refreshment is the manufacturer's way of saying that there are detox components to this product through its green tea extract and grape extract.
The iodine in the WBP T5 Black Ultimate formula is supposed to improve thyroid function so that it will be better regulated. On the other hand, the chromium is meant to improve fat metabolism.
Interestingly, while the website does talk about research that it has not cited, the product itself is not considered proven and none of its ingredients have been directly linked with measurable fat loss in humans in large and reputable studies adequate for the medical community to consider it proven. In fact, the only ingredient considered truly proven in its formula is the caffeine, which will indeed give most dieters a boost in energy.
To take WBP T5 Black Ultimate according to the package directions, new users should take one capsule with a large glass of water after breakfast. People who already have a high stimulant tolerance should take one capsule in the morning and another in the afternoon. Alternately, people who take part in high intensity exercise can take one to two capsules a half hour before their workouts. This is meant to provide a pre-workout energy boost.