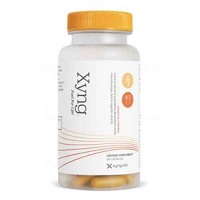 Weight loss Xyngular Xyng diet pills are a non-prescription supplement.  The company behind this product markets it as an energy and metabolism pill as well as a product that helps to promote appetite control.  These are common claims in the over the counter diet pill industry, so it's important to take a closer look at the product and its ingredients to get to know whether this product can live up to its claims and if it will be right for you.
The Weight Loss Xyngular Xyng Proprietary Blend
Xyng is the weight loss Xyngular proprietary blend.  It contains natural ingredients that were selected to help dieters to "reach a healthy weight, tone up, and feel incredible while doing it," according to the product's official webpage.  It also states that this proprietary blend "creates natural energy" as well as "improvement in mood" and "appetite control," which is a list of very high praises for a product such as this one.
It says that it is "changing lives daily" by energizing people through weight loss with the Xyngular Xing formula. Again, high praise for the product though without offering very much in terms of specifics or supporting those statements with any science.
Skepticism Toward Xyng
The issue with the claims presented about weight loss through Xyngular Xyng is that they're not backed up by anything substantial.  They make broad claims such as that when taking 1 to 2 capsules provides "energy & metabolism".  Providing energy makes sense. Many products do that. However, a pill cannot provide metabolism.  Metabolism is a number of interconnected processes throughout the body. It also claims appetite control without explaining precisely how that happens.
It states that it will control cravings and suppress the appetite, aid in weight management and energize the body and mind. To do this, the formula contains a striking number of ingredients.  According to the product package, these include:
Caffeine anhydrous
White willow bark extract
5-HTP
Bitter orange extract
Garcinia cambogia extract
Green tea leaf extract
Cayenne pepper fruit extract
Rhodiola root extract
Korean ginseng root
Maca root
Black tea leaf extract
Yohimbe bark extract
Undaria pinnatifida extract
Bioperine
It's clear from this list that the energy claimed for weight loss by the Xyngular Xyng supplements comes from the caffeine anhydrous as well as the synephrine within the bitter orange extract.  The rest of the claims have not been proven by reputable research published in peer reviewed industry journals at the time this review was written.  It is very important to speak with a doctor before choosing this product.