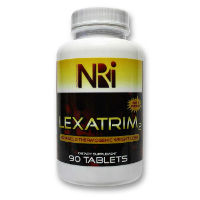 Lexatrim 2 is a nonprescription weight loss supplement that is meant to use thermogenesis in order to be able to produce fat loss in dieters. It is a product made and manufactured by a company called Natural Research Innovation, and its primary distributor is an online store called evitamins.com.
Unfortunately, though attempts were made to find an official website for the manufacturer, one could not be located at the time of this review. Therefore, the information used for the purposes of creating this review were sourced from the evitamins.com site. It is disappointing that the manufacturer has not gone to the effort to create an official website as it makes it much more difficult for potential buyers to be able to obtain information they know they can trust. Moreover, it makes it more difficult to feel secure in purchasing a product from a company without a website as contact information is not available in case there are questions or concerns before or during use.
The Lexatrim 2 weight loss aid does actually have a website printed on its product label. However, when that URL was visited, the site was no longer available. That said, it does not appear as though the product itself has been discontinued as there is still ample supply being sold online.
According to the directions on the package, Lexatrim 2 is meant to be taken one tablet at a time with eight ounces of water, a half hour to 45 minutes before breakfast and then again before lunch. Its use is meant to be combined with a healthful diet and a regular exercise program. No more than two tablets should be taken within a 24 hour period.
The product formula includes a long list of ingredients in addition to a proprietary formula (which means that the quantities of its ingredients are not listed). The formula is made of: vitamin B6, iodine from kelp, chromium, theobromine, yerba mate extract, garcinia cambogia, gymnema sylvestre, banaba, calcium pyruvate, grapefruit powder and bachu leaves, as well as the proprietary formula which contains: white willow bark powder, green tea, uva ursi, cayenne pepper, juniper berries, guarana, chitosan, coleus forskohlii and apple cider vinegar.
With that number of ingredients, even if they had all been proven, it is unlikely that they could all be included in doses that would provide measurable benefits. Moreover, it is clear that nearly every one of those ingredients is unproven for direct weight loss in significant levels through reputable large scale studies.