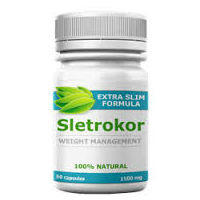 Sletrokor is an over the counter weight loss pill that has been created by a company called 18Nutrition. The product has an official website which does provide consumers with some information but that was clearly designed to encourage dieters to make a rapid decision and purchase the product as quickly as they can.
The claims that are made on the official site are quite dramatic. If Sletrokor were able to stand up to those promises, it would be quite the incredible product. That said, these types of promise are not uncommon in the nonprescription dieting industry. Therefore, it's important to make the effort of researching the formula and the company behind it before believing everything that is said. In that way, it makes it easier to know what can be trusted and what should be left aside.
At the time of the writing of this review, the official Sletrokor website provided a spectacular list of benefits that are supposed to be provided by this diet pill. They included: reducing hunger, boosting serotonin, healthy cholesterol support, the enhancement of healthy metabolism, blood pressure reduction assistance, raised serotonin levels, increased immune function, and "shoots down leptin ratio".
The idea that one product could provide all those benefits is quite appealing, so the next step is to examine the ingredients that make up the product so that it can be determined whether or not reputable research supports these claims.
The official website listed the proprietary blend of the Sletrokor formula as being made of: legume protein concentrate (Phaseo vulgaris), chitosan, cider vinegar, garcinia cambogia, gymnema sylvestre, cascara sagrada and aloe vera. Unfortunately, none of these ingredients are all that unique within this industry and, even worse, none of them are considered to be proven as weight loss pill ingredients. In fact, the Mayo Clinic went so far as to name some of those specific substances among those that require far more research before any conclusive claims can be made about their dieting benefits.
Though this does not necessarily mean that the product won't work – it may very well be quite helpful to many dieters – it does not have the scientific foundation that would be required to know for certain that the benefits would be powerful enough to actually produce the implied results, moreover without that additional study, there is no way to know how much of any given substance should be used, even if it is an effective part of a diet pill formula.