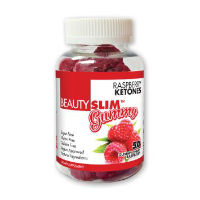 Beauty Slim Gummy is a weight loss supplement that comes in a flavored, chewable form that is meant to make it easier for dieters to drop their extra weight. It comes in three different flavors and each flavor is based on a different key ingredient. The raspberry ketones version comes in raspberry flavor, the garcinia cambogia flavor comes in pineapple flavor, and the green coffee bean version is mocha flavored.
This review is on the BeautySlim Gummy that is based on raspberry ketones. According to the official website for this product, this version of the gummies is meant to "stimulate fat loss and regulate metabolism." It claims that research has suggested that this is what raspberry ketones can provide. It is important to point out that the actual body of research that has accumulated with regards to this ingredient in terms of its impact on weight loss is very light and conflicting. There are few studies at all, most of them limited and preliminary. At best, all that has been proved is that this ingredient warrants further study before any decisions can be made as to what its impact might be.
The product is meant to provide dieters with an alternative to using stimulant based diet pills. That said, as much as it is appealing for people with stimulant sensitivities to use BeautySlim Gummy Raspberry Ketones without having to fall back in stimulants, there isn't any real published research that is accepted by the medical community that would prove that it is directly linked to weight loss. The reason that matters is that without that research, it is not only impossible to know if the ingredient works, but it also can't be known how much needs to be used to produce results, how much is too much (that is, if it leads to side effects after a certain quantity), whether it is unsafe for certain users, or whether it conflicts with other supplements or medications.
If one could assume that the product does work, it comes in a format that many people will find to be an appealing alternative to pills. Some people may enjoy them for the fact that it tastes like a treat, but others will like the fact that they don't have to try to swallow a tablet or capsule as they struggle to swallow pills whole.
That said, at this time, this review should not be considered to be a recommendation for BeautySlim Gummy Raspberry Ketones.