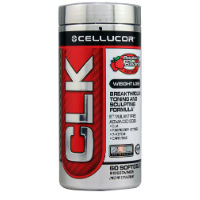 Cellucor CLK is a nonprescription diet supplement that the manufacturer has designed in order to provide assistance to dieters who have a considerable weight loss goal and who are either struggling to reach it or who want to attain it more rapidly. According to the official webpage for the product on the manufacturer's website, this product is meant to ensure that weight loss "doesn't have to be complicated."
The Cellucor CLK website claims that this is a "toning and sculpting formula" but at the time that this review was written, no information was provided with regards to how the product would actually change the body's shape. It does, however, say that this product "stacks well" with other products from the Cellucor brand, meaning that some users may not find that these diet pills provide a complete experience without adding other supplements such as Super HD, L2 Extreme, and Alpha Amino.
Therefore, it becomes even more important for a dieter to have a look at the ingredients that make up this formula before deciding that this would be an appropriate product to take. It would also be recommended that the ingredients list be taken to a doctor in order to be able to discuss what it could potentially provide and whether or not there is a chance that it could be safe and effective. If you intend to combine the use of these diet pills with the other products recommended by the manufacturer, it is a good idea to bring the information from those items, as well.
At the time of the writing of this review, the official webpage for Cellucor CLK identified the ingredients in the formula as: Slimpro® (protein hydrolysates of blue whiting (Micromesistius poutassou)), L-carnitine tartrate, Razberi-K® (a brand name version of raspberry ketone), and CLA (conjugated linoleic acid).
Although the website did explain what each of the ingredients was, it did not provide any information with regards to how the use of those substances could lead to measurable fat loss. Furthermore, there wasn't any mention of clinical or scientific studies that would support the use of these ingredients as a part of a weight loss formula. As far as could be ascertained by way of research using medical journal databases, there is some research that would suggest that CLA can be helpful as a part of a complete weight loss pill formula and healthy diet plan, but that is only the last ingredient on this list. The rest of the ingredients don't seem to have studies behind them that would prove that they cause the body to lose fat in a measurable way.