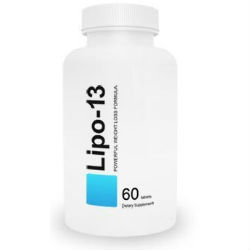 Lipo 13 is a nonprescription weight loss supplement that has been created with dieters in mind, as it has been designed to help them to speed up their fat loss while making those goals easier to achieve. This product is manufactured by a company called Ecopharma. It is a manufacturer that is based in Belgium and that has sold a line of weight loss products throughout its lifetime.
In the case of Lipo 13, this is not the first version of the deit pill that was created by Ecopharma. Originally, these pills were called Lipo XR, but the manufacturer decided to change the name of the product when it altered the ingredients that were contained within it. Though they could have maintained the same name, they wanted to make a fresh start and make it clear to dieters that what they would be receiving would not be the same thing. This reduced the risk of confusion among dieters while maintaining the "Lipo" name theme of their supplements.
The official website of the manufacturer has a page dedicated to Lipo 13, in which it has stated that the ingredients are clinically proven. At the same time, though, Ecopharma did not actually make reference to any specific studies in which the ingredients in this formula were researched or studied in any way. This means that they are requiring the customer to simply assume that they are telling the truth and that the research is considerable enough that it could actually be considered to be a proven substance. Moreover, the manufacturer did not say exactly how the product's ingredients were proven. It didn't say specifically that they were proven to be safe, effective for measurable weight loss, or anything else in particular. It simply said "proven" in general.
The formula of Lipo 13 contains: citrin HCA (garcinia cambogia), green tea (camellia sinensus), zinc citrate, vitamin B6, chromium, ForsLean, yerba mate, L-carnitine, choline bitartrate, L-tyrosine, and bioperine.
Unfortunately, at the time of this review, not all of the ingredients in this formula have been proven to be connected with measurable weight loss. In fact, even the top ingredient has never had adequate clinical study to prove that it will lead to a measurable reduction in fat levels among the majority of dieters. While this doesn't necessarily mean that the product won't work, as it might, it does indicate that the marketing tactics of the manufacturer may be somewhat on the misleading side.