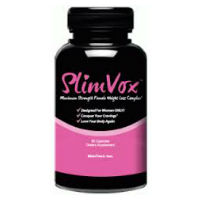 SlimVox is an over the counter diet pill that has been marketed specifically for women dieters. It claims to have been "made for women by women". When looking at the official website for this product, it appears that the entire purpose of using this product is to achieve some form of perfect bikini body. It claims that this goal can be accomplished within a span of only 4 weeks.
This is an odd type of claim as it does not define specifically what a perfect bikini body actually is, nor does it claim that the results will take any longer for people who have larger amounts of weight to lose. By the look of the PhotoShopped and bikini clad model pictures that can be found all over the website, it would be difficult to believe that someone who has dozens of pounds to lose would ever be able to experience the results that are being claimed on this site.
That said, it is still worth investigating this product to help to decide whether or not it could potentially be beneficial to safe weight loss, even if it won't actually generate the massive amounts of fat loss being claimed by the site. The website says that taking these pills will help to speed up the metabolism, suppress feelings of hunger, increase energy levels, enhance the user's breasts, and "get your perfect body".
SlimVox claims to be designed to meet the weight loss needs of every woman through its carefully designed formula. It is interesting that it has not stopped only at making claims about exceptional weight loss, but it has also branched out into other areas, such as breast enhancement. Later in the websites written content, it even claims that this product can work as a product that will increase sexual desire and that will increase the amount of pleasure experienced during sex. It states that it will boost the overall mood and that it will condition the skin.
After reading that list of claimed benefits, it starts to become difficult to think of something that SlimVox isn't supposed to do for a woman's body. However, before any of these claims can be believed, it is very important to look at the ingredients that make up the formula.
At the time that this review was written, the ingredients listed on the official website were: Chromax, Razberi-K, Irvingia Gabonensis, Coenzyme Q10, and Green Coffee Bean Extract. After seeing this list, it should become very clear to anyone who has any experience in the weight loss supplement industry that it is highly unlikely that the product will live up to its claims. It is greatly recommended that a doctor be consulted before trying this unproven supplement.