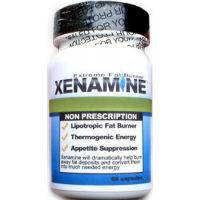 Xenamine is a supplement that is available without a prescription and that is sold within the weight loss category at a few online marketplaces. It is manufactured by InnerVital, which is a company based in New York state and that does not provide any information about itself – aside from its contact information – on its website, which it uses as a store for its many health and wellness products. InnerVital sells a number of other weight loss supplements, as well as smoking cessation products, anti aging serums, sexual dysfunction supplements (for both men and women), breast enhancement products, and those for cleansing and detoxing.
When it comes to this specific product, InnerVital calls Xenamine a diet pill that will be able to "turbo charge" weight loss. Other claims that it has made about the benefits of this product include that it is an appetite suppressant, that it will increase energy levels, and that it will also "turbo charge" a dieter's metabolism.
At the time that this review was written, the company did not cite any specific studies that would suggest that its claims have been supported by scientific study in any form. It calls its formula "scientific" but does not seem to have any science available to back up the statements that it has made.
That said, it has taken the step to actually list the ingredients within the formula on the website. At the time of this writing, the ingredients that it identified within its capsules included chromium, caffeine, and a proprietary blend made up of: Hoodia Cactus Powder, Caralluma Fimbriata Extract, Glucomannan, Green Tea, Theobromine, Guarana, Cha de Bugre, Maca Extract, L-Theanine, Banaba, Pomegranate Powder and Gugglesterone.
Several things become clear at first glance when looking at that formula. The first is that this product contains stimulants. While that may be helpful to some dieters in terms of boosting the metabolic rate, the amount per serving in these pills is exceptionally high. In fact, it is listed as being 400 mg per 2 capsule serving. That is the equivalent of drinking about 4 cups of coffee, all at once. This will cause many dieters to experience any or several of a range of unpleasant and unwanted side effects.
The next point is that most of the ingredients in this list are based more on hype than scientific evidence, and very few have any research to support their use. A brief search through medical journal databases showed that there is some preliminary research to support the use of theobromine, green tea, and L-theanine, but the rest appears to be used based on anecdotal evidence, alone.